From a 120-to-1 position, a four-man attack by Madhya Pradesh reduced Mumbai to 228-to-5 on day one of the Ranji Trophy finals 248 taken for 5. After playing an extra hitter who can do some spin and missing Pacer Puneet Datey, the frontline pair of MP Pacer and Spinner held out on a slightly tricky batting day as their discipline made it harder for Mumbai to score .
🚨 Limited time offer | Express Premium with Ad-Lite for only Rs 2/day 👉🏽 Click here to login 🚨
The sky remained cloudy well into the third session, and the old ball was still moving a little after 60 overs. The spinners also found some spins and jumps on what appeared to be an essentially dry surface, with rough areas already beginning to develop from bowler punches.
On a day when neither side had a runaway standout, Yashasvi Jaiswal scored a majority of Mumbai's runs and fell 22 short of what would have been a fourth consecutive first-class century. His captain Prithvi Shaw rode his luck at the other end in an opening 87 that created a decent base for Mumbai from which they had some cushion to soften the impact of later setbacks.
buy now | Our best subscription now has a special price
MP tried to surprise Mumbai when they opened bowling with left-armed spinner Kumar Kartikeya. He found a bit of extra bite from a slightly damp morning surface. Jaiswal went through a few nervous moments; He tried a slog sweep and missed, trying to give Kartikeya the attack and lucky his sliced ​​misshit cleared deep in the middle and sailed just over the limit.
While Jaiswal played a tight game overall, Shaw lived an extremely charming life. A sharp Kartikeya drifter charged in to take an inside edge that went beyond front short leg reach. Unlucky sailor Gaurav Yadav, deceptively quick from the surface, went past Shaw's edge five times in a no-reward over. He got a few to prune back alarmingly and a few more to nibble outside. In between, Shaw also threw his bat far.
Shaw has still managed to stick through 79 deliveries and if he stays in the middle that long, he's contributing. He was bowled for 47, missing a full, straight ball angled into him and his attempted straight drive found thin air comfortably outside the line of Anubhav Agarwal's delivery.
After this breakthrough, whenever Mumbai started to partner, MP would strike. The next four ranks were 33, 27, 38 and 43, all of which promised more and were all cut short by a combination of MP's persistence and soft layoffs.
Bowlers stick to their jobs
Armaan Jaffer lacks his uncle's consistently effortless finesse, but has an air of elegance as he whips through the midwicket. But there was nothing elegant about the way he hit Kartikeya with hard hands and carried the ball to the midwicket.
Suved Parkar came in and had another start but delivery from off-spinner Saransh Jain stopped him; He had already stood on the back foot to whip it hard and ended up praising it in the middle of the wicket.
Jain rolled beautifully through the day, throwing it up, varying his pace, inviting the drive out with only mid-off and sweeper, and extracting the jump. He could have been a little fuller, the length with which he released Hardik Tamore.
It was an incline where many edges didn't lead to the cordon. Two trailed behind the wicketkeeper and first slipped off Tamore alone, with the hesitant keeper-batsman enjoying several lucky charms. Carrying an edge, Tamore was knocked down on the second slip, albeit a sharp, slim chance.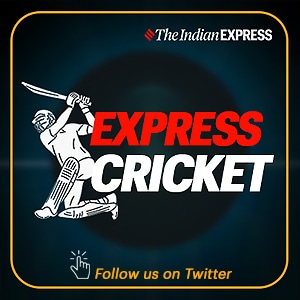 Jain kept trying to lure Tamore into the cover drive, but when he tried to be extra alert after the drop, Tamore shoved into the line of a full ball that didn't spin much and was prone to slipping.
All this time, MP has been optimizing the field. There was an in-out tournament for Kartikeya to Jaiswal, with three deep-leg sidemen and three close-in catchers. Seeing that the ball wasn't coming, they used a couple of short midwickets and short covers at different times. For Sarfaraz Khan, they had Jain bowling more directly with a 6-3 onside field.
Sarfaraz had walked away to a whirlwind reception from the few hundred fans, with shouts of "Sarfaraz best hai" and "vada pav" echoing through an otherwise empty M. Chinnaswamy Stadium. But contrary to his reputation as a free hitter, as so often in this format, he hardly took any risks. With a batting average in the early 70s in top-flight cricket, he pressed the cap for the day, going up to 40 balls from 125. He attempted some hard sweeps, which is a natural shot for him, but found the field.
There was at least one good leg-before yell against every Mumbai batsman, but none of them went in MP's favour. And with the Decision Review System (DRS) absent for an event as important as the biggest game on the national calendar, they had no option.
Still, late in the day, Agarwal and Yadav ran energetic for a collective 36 overs. With the second new ball only two overs old, both will hope to have more success with it on the second morning than they did with the first cherry.
Short results: Mumbai 248/5 (Jaiswal 78, Shaw 47) vs. Madhya Pradesh