"We know how big this game is this week. We're basically in playoff mode right now with a good Saskatchewan team coming in.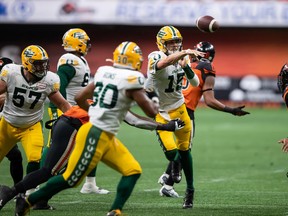 content of the article
The Edmonton Elks have been here before.
content of the article
And it's not exactly where they want to be.
They suffer an absolutely demoralizing 46-14 loss to the BC Lions to face the Saskatchewan Roughriders on Saturday (8pm TSN, ESPN+, 630 CHED).
If it has all the look and feel of deja vu, it's because they opened the season the same way, with Chris Jones returning to Edmonton to manage the team, only to suffer a 59-15 loss in Vancouver suffer to return home and fall on the 26th -16 to Gang Green the following week.
content of the article
This time, the Elks hope the similarities end.
"We know how big this game is this week," said Elks quarterback Taylor Cornelius, who will make his first try with the Roughriders after spending the first four games of the season on the touchline. "As Coach Jones said earlier in the week, we're essentially in playoff mode and a good Saskatchewan team is coming in.
content of the article
"So we have to be ready to roll and click on all the cylinders and play a three-phase game of football."
Easier said than done, perhaps for a team that bottoms in the stats on offense, defense, and special teams while also scoring the fewest points and allowing the most to date.
At the same time, the moose decide to look at it as nowhere but up, because what other choice is there, really?
"I had the feeling that we had a great week of preparation, offensively and defensively," said Cornelius. "So it should be a fun game."
More fun, of course, if they go into the fourth quarter with a lead over Saskatchewan again this time and can hold it.
BEAT THE BLADES
The Elks needn't be told how close they came this game to ending a home loss that has rolled to 11 straight games and will soon enter league-record territory they don't want to end up in against The Ottawa Rough Riders 1988 ended their losing streak on home turf after 14 games.
content of the article
"No one is more disappointed than myself," said Jones of the 2-6 start to the new year. "I am disappointed with where we are with this football team. I take it very personally, I mean, that's what I was made for. That's why they paid me to come here, not because of my looks.
"So we are certainly disappointed with where we are and we want to continue our work. We're here to do one thing, and that's not just to play and coach professional football, but good football. And we still have to be consistent enough to be considered a good team. This is our record."
RYAN VS. roughrider
Jon Ryan meets his hometown team and former teammates for the first time since he has played for the Roughriders for the past two seasons.
The veteran punter of 17 professional seasons, who played on both sides of the border, joined the Elks last week after a brief stint with the Hamilton Tiger-Cats earlier in the summer.
content of the article
And he's come full circle with his return to the CFL, where he began his career with the Winnipeg Blue Bombers in 2004.
"It's nice to meet up with some friends that I've played with and stuff like that," Ryan said. "But once you're on that field, you're not playing Saskatchewan, you're not playing BC, you just go back to playing football and doing your thing.
"So up front you talk and everything but between those white lines (Saturday) night it's football."
Joining a team lower in the standings doesn't change the end goal of making playoffs and finishing as high in the standings as possible.
"Absolutely," Ryan said. "I think we've all been in the CFL so long that we've seen 8-10 teams and 9-9 teams win the Gray Cup, so nothing is out of reach after eight games."
In and out: Just two changes in the Elks lineup this week compared to 12 and 10 in the previous two games. Newcomer Jaime Harry supports SLB Ethan Makonzo while OL Steven Nielsen returns from COVID protocol as the Elks' sixth man and global player. Heading there are global K Ryan Meskell and OL Tomas Jack-Kurdyla.
"Any time you can carry over something from week to week, we're just about done talking about it, it depends on the players," Jones said. "They will take us where we are going."
Email: [email protected]
On twitter: @GerryModdejonge