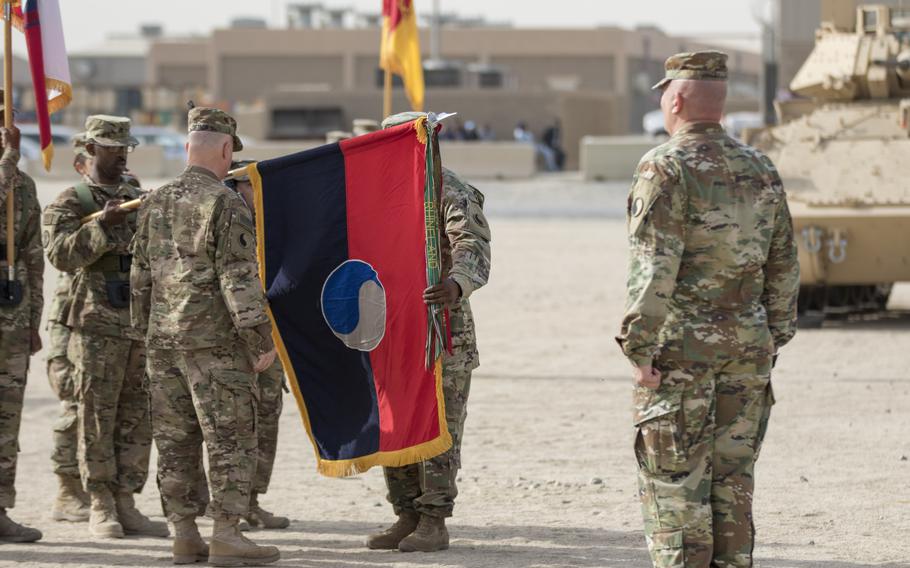 WASHINGTON — The commission tasked with removing commemoration of the Confederacy in the U.S. military recommended Monday that the Army ban Confederate campaign streamers from flying on unit flags but allow the 29th Infantry Division to fly a blue-gray patch to keep, which refers to the civil war.
An exception to 1949 Army regulations allows 457 Confederate combat streamers to be issued and 48 Army units to have at least one, according to the naming commission. Members of the eight-person group convened by Congress last year to rename military assets associated with the Confederacy have urged the Department of Defense to lift the exemption.
The commission also recommended changing the descriptive text of the blue and gray shoulder patch worn by the Army's 29th Infantry Division, but said the patch design could remain the same. The yin-yang symbol used on insignia throughout the division has represented the blue uniforms of Union soldiers and the gray uniforms of Confederate soldiers since World War I.
Community feedback heavily influenced the decision to keep the icon, said the retired Adm. Michelle J. Howard, the chair of the commission.
"The 29th ID community shows it views the symbol as a unifying symbol for America and is steeped in the sacrifices and service of former members of the 29th ID," Howard wrote in a July letter to senior members of the House and Armed Forces Senate Committees.
Formed in 1917, the division played a major role in World War II, landing on the beaches of Normandy on D-Day and eventually advancing through France and into Germany. It is now an Army National Guard formation and includes units from Virginia, Maryland, Kentucky, North Carolina, South Carolina, and West Virginia.
Howard said the description of the division's patch should be changed to "reflect the rich history of the 29th century, with an emphasis on the unification of American citizens through service in the 29th," and stripped of language describing Confederate service and implying the reconciliation of North and South.
The description of the Institute of Heraldry, which oversees all symbolic items of the federal government, states that the "division consisted of two masses of men, one from the north and the other from the south. Hence north is represented by the blue and south by the gray."
The commission also told lawmakers that the secretary of defense should mandate each service secretary to render tributes to the Confederacy on heraldic artifacts or other symbols. In a short guide, the group proposed full redesigns for items that unequivocally honor the Confederacy and language changes for commemorations based primarily on the descriptive text.
The recommendations follow a long list of proposed changes by the commission, which is due to present a final report to Congress on October 1. The group has so far recommended renaming nine army posts and has identified more than 750 buildings, roads, ships and other military assets for review.